We have now made it possible to sync tasks that are assigned to you in Asana from any level.
When you have "Assigned to Me" selected in your connection's source settings, Pleexy will sync all tasks from Asana as root tasks, no longer keeping the parent-child relationship. This means you can now sync subtasks even when the parent task is assigned to somebody else.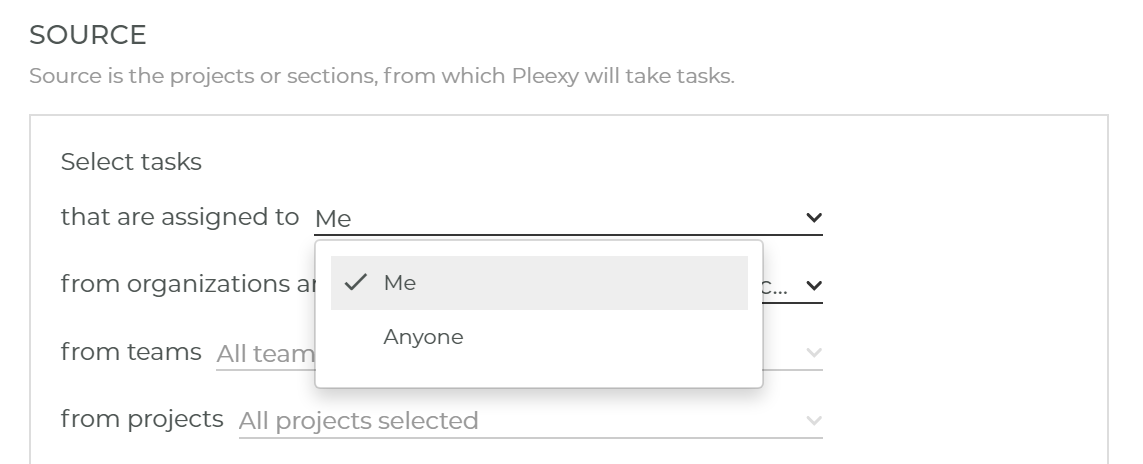 In addition, you can also sync tasks that don't belong to any project — those that fall under "My Tasks" in Asana.
No changes are made to the "Assigned to Anyone" option in your connection settings.
Note:
Due to API limitations, the option to edit the assignee is only available when creating a connection. You'll need to create a new connection in order to change the assignee.
In case you missed it, you can now integrate Pleexy with Microsoft To Do! 🎉
Similar to our Wunderlist integrations, you can import tasks from all of our supported source services into Microsoft To Do. Pleexy will automatically keep your tasks synchronized on both sides of your connection.
To learn how to switch your task manager from Wunderlist to Microsoft To Do, check out our
help article
.
We're excited to announce our new and improved Evernote connector!
We've completely rebuilt our Evernote integration from the ground up to deliver a more powerful note-taking and task-tracking experience for you.
Now you can enjoy these major enhancements:
We've optimized the way we work with Evernote API so you can experience real-time syncs of your changes in Evernote.
🚀 Say goodbye to rate limits
Pleexy can now process large amounts of data for both Personal and Business accounts without facing rate limits.
With these recent updates, we're another step closer to providing more advanced features to enhance your Evernote experience.
Try out our new Evernote connector and let us know what you think!